Stockbox
The delivery of healthy, supplemental USDA foods to local seniors in need is known as Stockbox, or nationally as the Commodity Supplemental Food Program (CSFP).  Sheboygan County Food Bank partners with Hunger Task Force (HTF) for Stockbox.  Stockbox food packages are assembled by HTF volunteers and delivered to our warehouse.
Stockbox food packages are free to those who are age 60 and older and have a monthly income at or below $1,354 for a single person or $1,832 for a family of two (for larger families add $479 for each additional member).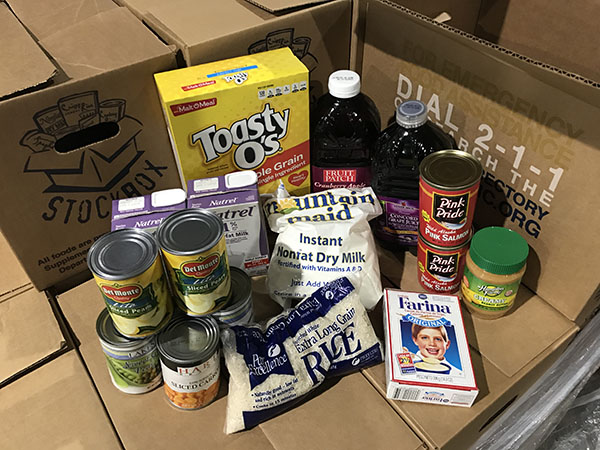 Each food package includes a variety of foods:
milk
juice
farina
oats
ready-to-eat cereal
rice
pasta
peanut butter
dry beans
canned meat
poultry, or fish
canned fruits
and canned vegetables.
Sheboygan County Food Bank delivers to six low-income senior housing sites throughout Sheboygan County:
Covenant House, Sheboygan
Park Plaza, Sheboygan
Quit Qui Oc Manor, Plymouth
Riverview Apartments, Sheboygan
Rochester Springs, Sheboygan Falls
Tamarack House, Sheboygan
Wasserman, Sheboygan
Sheboygan County Food Bank volunteers distribute Stockbox food packages to seniors on a monthly basis.