Making Spirits Bright
Sheboygan County Rotary Clubs provide Making Spirits Bright – an annual drive-through holiday lights show in Evergreen Park benefiting Sheboygan County Food Bank by collecting healthy, non-perishable food items. Admission to the park is free of charge, but donating pantry items is highly encouraged. Postponed in 2020 for health safety: across the street in The Quarryview Center, visitors enjoy visits with Santa, wreath raffles, entertainment and concessions.
Making Spirits Bright is Sheboygan County Food Bank's largest food drive. Over half million pounds of food items have been collected since the event started in 2012!
Volunteer
Would you like to help us collect food donated at Making Spirits Bright? We rely on volunteers to help us organize the collected food in our trucks and then deliver the food to our warehouse each night, Friday, November 27 – Thursday, December 31.
Thank You for the Support!
A Message from our Team During the COVID-19 Crisis
Thank You for the Support!
There's no doubt that the current health crisis has generated a unique challenge for Sheboygan County Food Bank. Many more of our neighbors have become dependent on emergency food distribution services. Moreover, we're also filling the gaps from the loss of partner food drive events, community food drives, and our grocery stores gleaning program by purchasing a substantial amount of food. We're very grateful that Making Spirits Bright is able to safely continue in 2020. Your support through volunteering and donating food are much appreciated!
Making Spirits Bright Pounds of Non-Perishable Food Items Collected Per Year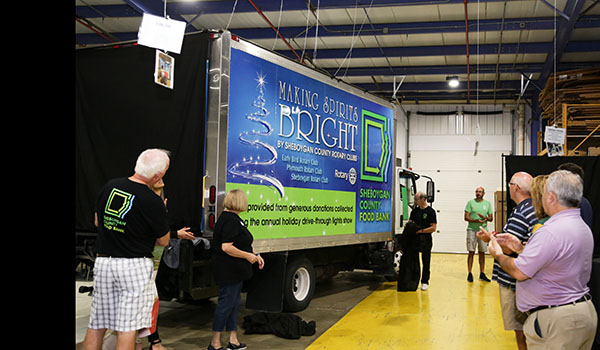 Sheboygan County Food Bank has also received generous monetary support from Making Spirits Bright over the years including:
$10,000 toward our first box truck and lift gate
$25,000 for diapers and nutritional foods
$35,000 for our first refrigerated truck to increase fresh food donations and deliveries
$10,000 for our Sheboygan County Hunger Relief Food Fund to purchase healthy emergency food during COVID-19
Making Spirits Bright also offers their venue for Sheboygan County Food Bank to hold its second largest annual fundraiser and only event – the Holiday Lights Hunger Run/Walk.
Making Spirits Bright is open every night from November 27 through December 31 from 5:00 PM – 9:00 PM (closed on Dec. 24) and counts on nearly 2,000 volunteers each season.